The Guapos, el supergrupo formado por los reconocidos artistas de la escena musical actual de México Adán Jodorowsky, El David Aguilar, Jay de La Cueva y Leiva, presenta "Nunca Te Quise", segundo sencillo de su tan esperado álbum debut.
"La letra es una caricaturización de la actitud del amante que, tal vez por inseguridad (o no), muestra un carácter arrogante ante una posible ruptura, con absoluta determinación y hasta enumerando sus defectos. Es cínica. Lo curioso es que, ante lo ácido de la letra, la música es de una naturaleza muy dulce y ese contraste es quizás lo que nos gustó desde siempre de la canción. El video, por otro lado, termina de cerrar el relato con justicia ya que los intérpretes del tema son estafados y aniquilados por una misteriosa vengadora, en medio de un universo surrealista."
El video musical fue dirigido por Charlotte Kemp Muhl, quien cuenta con una larga trayectoria cinematográfica y musical en New York. Además, tuvo a Kenji Katori como director de fotografía y fue producido por La Catrina. La filmación se llevó a cabo en dos días en varias locaciones de la Ciudad de México y Querétaro.
Producido por Adán Jodorowsky y grabado en los estudios Reliable Recorders en Chicago, "Nunca Te Quise" es un tema de la autoría de los cuatro Guapos.
Pulsa en la imagen para escuchar "Nunca te quise" en la plataforma digital de tu preferencia: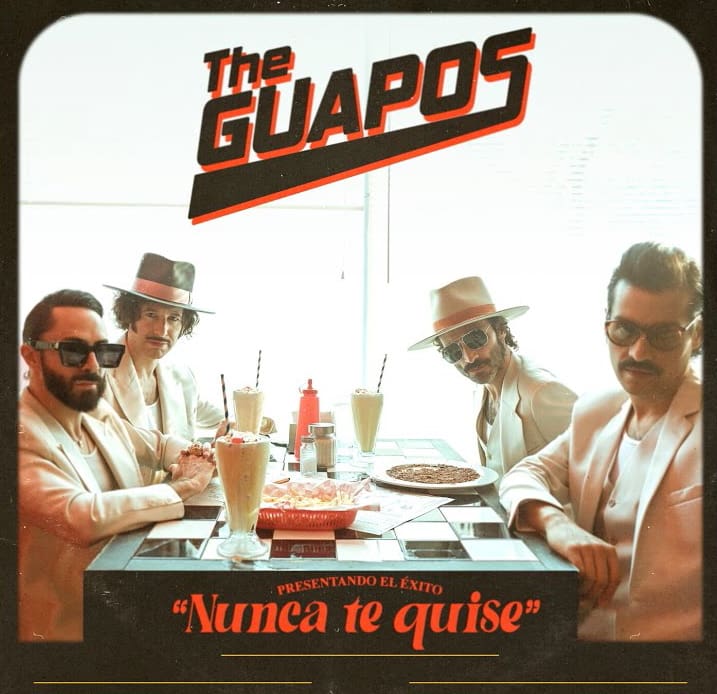 En los meses de junio y julio, la banda se embarcará en una breve gira por España, en donde se presentarán en los principales festivales de verano.
Sobre The Guapos:
Supergrupo formado por Adán Jodorowsky, El David Aguilar, Jay de La Cueva y Leiva, cuatro reconocidos artistas de la escena musical actual de México (residencia de tres de ellos) y España (país donde vive Leiva). David, Adán, Jay y Leiva son artistas de larga trayectoria, todos ellos músicos multi instrumentistas, con un extenso repertorio entre las diversas composiciones y producciones que han firmado en sus respectivas carreras. The Guapos es un proyecto que nace ya sólido, fruto del compromiso de estos cuatro amigos por lograr un sueño común: dar vida a este anhelo artístico creando un proyecto único ejecutado a la perfección y muy divertido, en el que trabajar a largo plazo y en paralelo a los propios que tienen como artistas en solitario. En medio de un mundo de inmediatez digital, tendencias y frenetismo, The Guapos irrumpe como un divertido antídoto planteado desde el formato banda más clásico. Su filosofía de rescatar lo mejor de otros tiempos actualizando a su manera lo clásico, les ha llevado a grabar todas las canciones del que será su disco debut de forma completamente analógica (en dos tracks, en cinta, y con sonido mono). Letras pegadizas, ritmos bailables y las maneras de antaño más cool, traído a nuestros tiempos por estos cuatro geniales músicos.
Sigue a The Guapos en: