Tras el éxito de su anterior sencillo "Paraíso", y en medio de una espectacular gira por Estados Unidos que ya los ha llevado a importantes ciudades norteamericanas como Filadelfia y Chicago, el galardonado trío latino alternativo The Braided Janes regresa con un nuevo sencillo justo a tiempo para el Mes del Orgullo, lanzando hoy su nuevo sencillo "Por Una Mujer."
Con ritmos vibrantes y letras conmovedoras, "Por Una Mujer" es un himno audaz y asertivo dedicado a la comunidad LGBTQ+. La canción es muy personal para la aclamada banda, ya que su historia se inspiró en el tremendo amor incondicional entre la cantautora de The Braided Janes, Jessica Rodríguez, y su esposa, la baterista Juny Álvarez, que se casaron en julio de 2017, solo dos semanas después de que el matrimonio entre personas del mismo sexo se legalizara en Estados Unidos.
"Quería escribir una canción que celebrara quiénes somos y lo liberador que es cuando amas a quien amas libremente. En un país donde se siguen atacando nuestros derechos humanos, quería gritar al mundo que pase lo que pase no me rendiré porque el amor verdadero no tiene límites", comparte. "Se lo dedico a mi amada esposa y a todos los que han luchado para que lleguemos hasta aquí. El amor es el amor, seguimos luchando".
Pulsa en la imagen para escuchar "Por Una Mujer" en la plataforma digital de tu preferencia:
Rodríguez, una intrépida narradora que escribe sus canciones basándose en sus propias experiencias como chicana queer de primera generación, seguramente inspirará a los fans de todo el mundo con su increíble pasión, que brilla a través de su imponente entrega vocal en este tema inolvidable que sirve como continuación del nuevo capítulo que The Braided Janes comenzó el año pasado con "No Puedo Mas".
"Por una mujer" es el cuarto sencillo del segundo álbum de estudio de la banda, "Renacer", que se grabó en Minca, Colombia, con el productor ganador de un Grammy Christian Castagno, de Sonido Selva Studio (Iggy Pop, Bomba Estéreo, Arcade Fire). Un álbum de raíces latinas, el proyecto en español llevará el ya distintivo estilo del grupo al siguiente nivel incorporando nuevos sonidos y presentando una irresistible vibra de "Tropi-alt rock" que dejará enganchados a los oyentes. "Renacer" saldrá a la venta el 1 de septiembre.
Tras una breve pausa, The Braided Janes continuarán su gira Corazón Migrante U.S. Tour 2023 con una actuación en el Consulado General de México en Nueva York el 10 de julio. La serie de actuaciones acústicas gratuitas en directo tiene lugar paralelamente a un increíble despliegue de arte visual en gira, que incluye 40 pinturas de diversos medios, dos esculturas de papel maché y un desfile de moda, todo ello creado por el colectivo CORAZÓN MIGRANTE de artistas multidisciplinares de ascendencia mexicana en Estados Unidos con el objetivo de resaltar la vitalidad que se encuentra dentro de la comunidad migrante mexicana en EE.UU. Jessica Rodríguez, de The Braided Janes, se encuentra entre los artistas que representan a Chicago.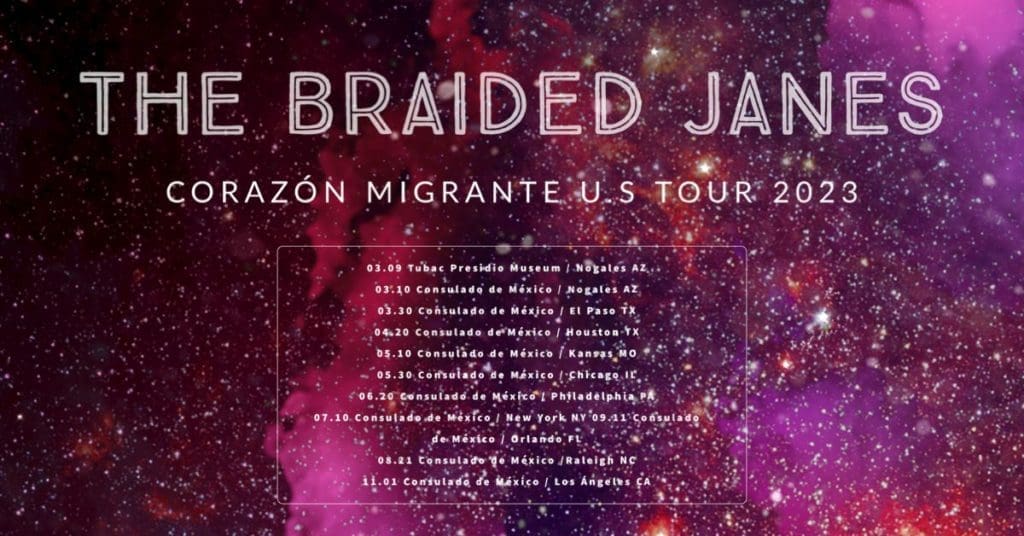 Corazón Migrante U.S. Tour 2023 hará otras paradas en Estados Unidos y en otros consulados mexicanos en ciudades como Nueva York, Atlanta, GA; y Los Ángeles, CA. La gira también incluirá la presentación oficial del álbum del grupo en Chicago el 23 de septiembre en el Museo Nacional de Arte Mexicano.
Fundada por los miembros de la familia Jessica Rodríguez (voz, teclas, guitarra), su esposa Juny Álvarez (batería, percusión), y su cuñado Andrew Doyle (bajo, guitarra eléctrica), The Braided Janes han tenido un impacto innegable en la escena latina con su música que hace declaraciones y su visión compartida para el cambio social. Su poderoso álbum debut bilingüe abordó temas importantes como la violencia armada, el feminicidio y la guerra contra los inmigrantes y las POC, y la canción "Fuego", incluida en el proyecto de 2019, logró la atención de NPR, que incluyó la pista como una de sus Mejores Canciones Alternativas Latinas de 2019.
Corazón Migrante Tour Dates 2023
Julio 9 – Synagogue – New York, NY
Julio 10 – Consulado General de México – New York, NY
Julio 11 – Tequila Chito's – New York, NY
Agosto 21 – Consulado General de México – Atlanta, GA
Septiembre 11 – Consulado General de México – Orlando, FL
Septiembre 23 – National Museum of Mexican Art – Chicago, IL
Octubre 7 – Mexican Folk Art Collective 3rd Annual Día De Los Muertos – Viola, WI
Noviembre 1 – Consulado General de México – Los Angeles, CA