A UNOS DÍAS DE COMENZAR SU ESPERADA GIRA POR EE. UU. EL 24 DE MAYO

El músico, productor y cantante Siddhartha, nominado al Grammy Latino, se embarcará próximamente en su esperada gira por Estados Unidos, un espectacular ciclo de presentaciones que forma parte de la segund aparte de su gira internacional que comenzó en 2022, y que llevará a la aclamada estrella mexicana por algunas de las ciudades más importantes del continente Americano.
Recién estrenado su video musical "No Es Antes Ni Es Después", corte de su más reciente álbum "00:00", durante esta gira, que arranca de nuevo este jueves 4 de mayo en la Alhóndiga de Granaditas en Guanajuato, MX, Siddhartha ofrecerá interpretaciones de sus más queridos éxitos, así como del material de "00:00".
El 24 de mayo llegará a Estados Unidos con una presentación en The Fillmore en San Francisco, CA, antes de presentarse en otros respetados lugares de California como el Theater at the Ace Hotel en Los Ángeles y House of Blues en San Diego, para continuar en Houston, Atlanta, Nueva York, Chicago y Phoenix, entre otras importantes ciudades.
La gira internacional 2023 de Siddhartha también incluirá numerosas paradas en Lima, Perú; Quito, Ecuador; El Salvador y Ciudad de Guatemala, con más presentaciones en otros países por agregarse próximamente; y culminará el 9 de diciembre con un espectáculo masivo en el legendario Foro Sol de Ciudad de México.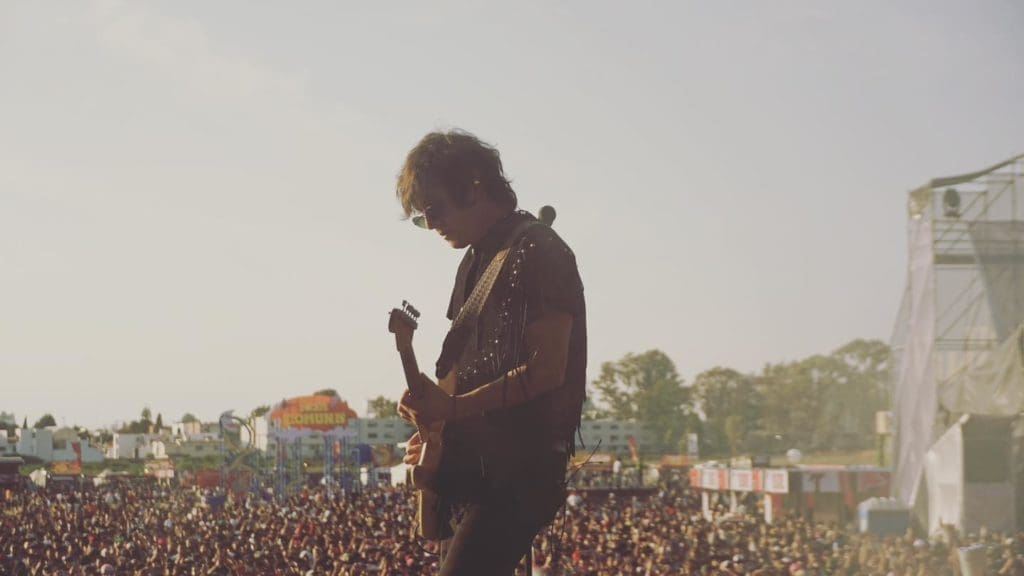 Con siete álbumes de larga duración en su haber, seis de estudio y uno en directo, así como múltiples nominaciones a los Grammy Latinos, incluida la más reciente nominación a los Grammy Latinos 2022 a la Mejor Canción Alternativa ("00:00"), Siddhartha es una de las figuras más respetadas de México, y su música se ha convertido en la banda sonora de las vidas de innumerables personas en todo el continente. Su música evoluciona con cada proyecto que lanza, y con su álbum "00:00", logró esta impresionante hazaña una vez más, al tiempo que marcó un nuevo comienzo, que los fans podrán presenciar de primera mano durante esta gira inolvidable.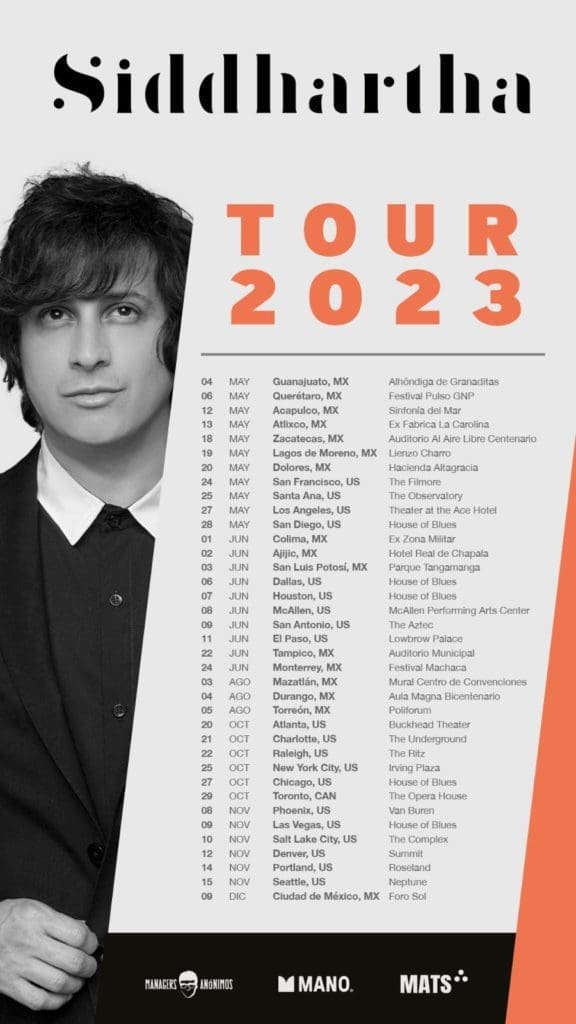 FECHAS DE EE. UU. PERU, ECUADOR, EL SALVADOR & GUATEMALA
Mayo 24 – The Fillmore – San Francisco, CA
Mayo 25 – The Observatory – Santa Ana, CA
Mayo 27 – Theater at the Ace Hotel – Los Angeles, CA
Mayo 28 – House of Blues – San Diego, CA
Junio 6 – House of Blues – Dallas, TX
Junio 7 – House of Blues – Houston, TX
Junio 8 – McAllen Performing Arts Center – McAllen, TX
Junio 9 – The Aztec – San Antonio, TX
Junio 11 – Lowbrow Palace – El Paso, TX
Agosto 17 – CCB Barranco – Lima, Peru
Agosto 19- Teatro San Gabriel – Quito, Ecuador
Agosto 20 – Teatro San Gabriel – Quito, Ecuador
Septiembre 1 – Museo Marte – San Salvador, El Salvador
Septiembre 3, Parque de La Industria – Ciudad de Guatemala, Guatemala
Octubre 20 – Buckhead Theater – Atlanta, GA
Octubre 21 – The Underground – Charlotte, NC
Octubre 22 – The Ritz – Raleigh, NC
Octubre 25 – Irving Plaza – New York City, NY
Octubre 27 – House of Blues – Chicago, IL
Noviembre 8 – Van Buren – Phoenix, AZ
Noviembre 9 – House of Blues – Las Vegas, NV
Noviembre 10 – The Complex – Salt Lake City, UT
Noviembre 12 – Summit – Denver, CO
Noviembre 14 – Roseland – Portland, OR
Noviembre 15 – Neptune – Seattle, WA