Los miembros de la banda de ventas platino, Pierce The Veil -el guitarrista y vocalista Vic Fuentes, el guitarrista Tony Perry y el bajista Jaime Preciado- han anunciado su gira norteamericana de otoño de 2023. El Jaws Of Life Tour que arranca el 4 de noviembre en Sacramento y finaliza el 8 de diciembre en la ciudad de San Diego, CA.
La banda comienza la gira junto a las bandas L.S. Dunes, Dayseeker y Destroy Boys. Un cartel de lujo que no deberías perderte.
Las entradas estarán disponibles en preventa en Citi a partir del martes 25 de julio. Habrá más preventas a lo largo de la semana antes de la venta general, que comenzará el viernes 28 de julio a las 10:00am, hora local.
Citi es la tarjeta oficial de The Jaws Of Life Tour. Los titulares de tarjetas Citi tendrán acceso a entradas en preventa a partir del martes 25 de julio a las 11a EST hasta el jueves 27 de julio a las 10pm hora local a través del programa Citi Entertainment.
Pulsa en la imagen para conocer los detalles de la preventa:
Pierce The Veil lanzó su nuevo álbum The Jaws of Life, el primero en siete años, en febrero a través de su sello, Fearless Records. El cual se encuentra disponible dando click en la imagen.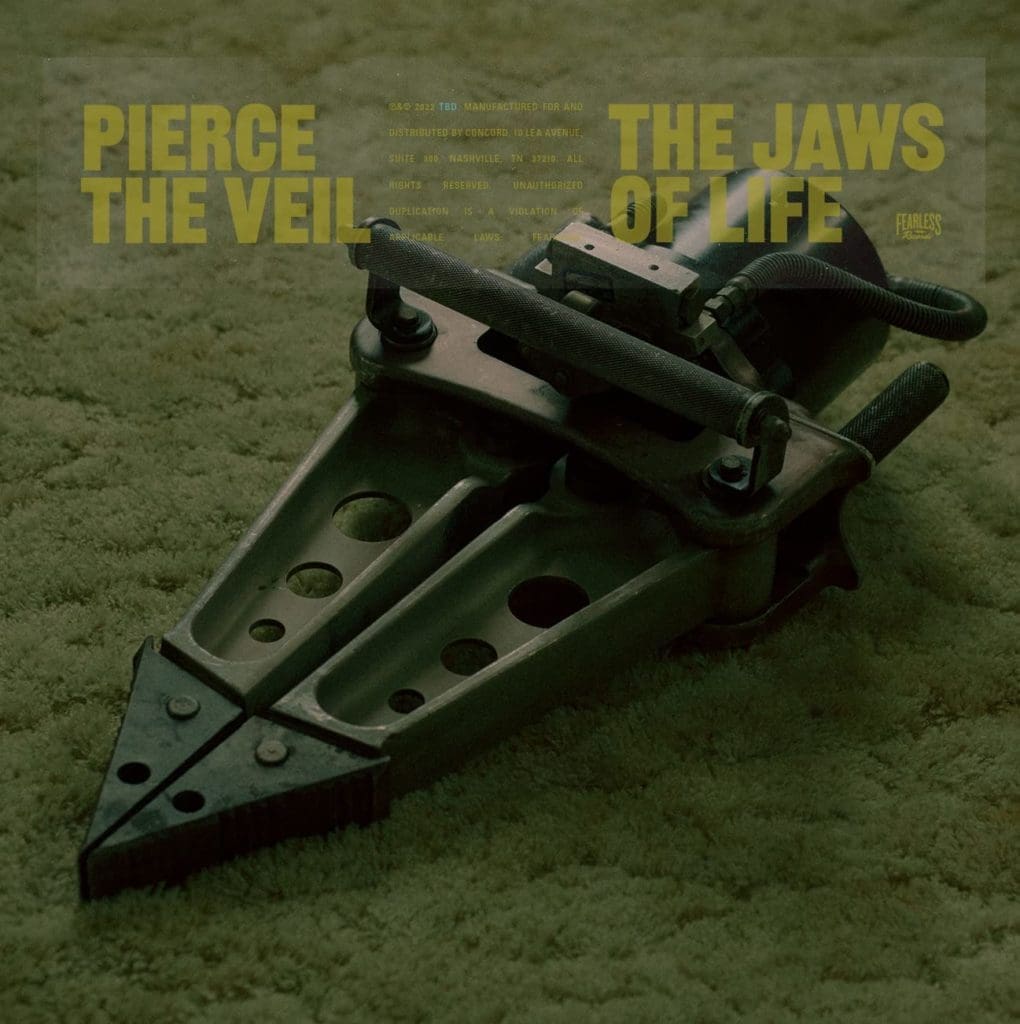 The Jaws of Life marcó el regreso para PTV, con elogios de la prensa en Rolling Stone, Uproxx, Huffington Post, Gawker, and MTV, entre otros. El sencillo "Emergency Contact" también llego all Top 5 de la radio alternativa.
PIERCE THE VEIL JAWS OF LIFE TOUR :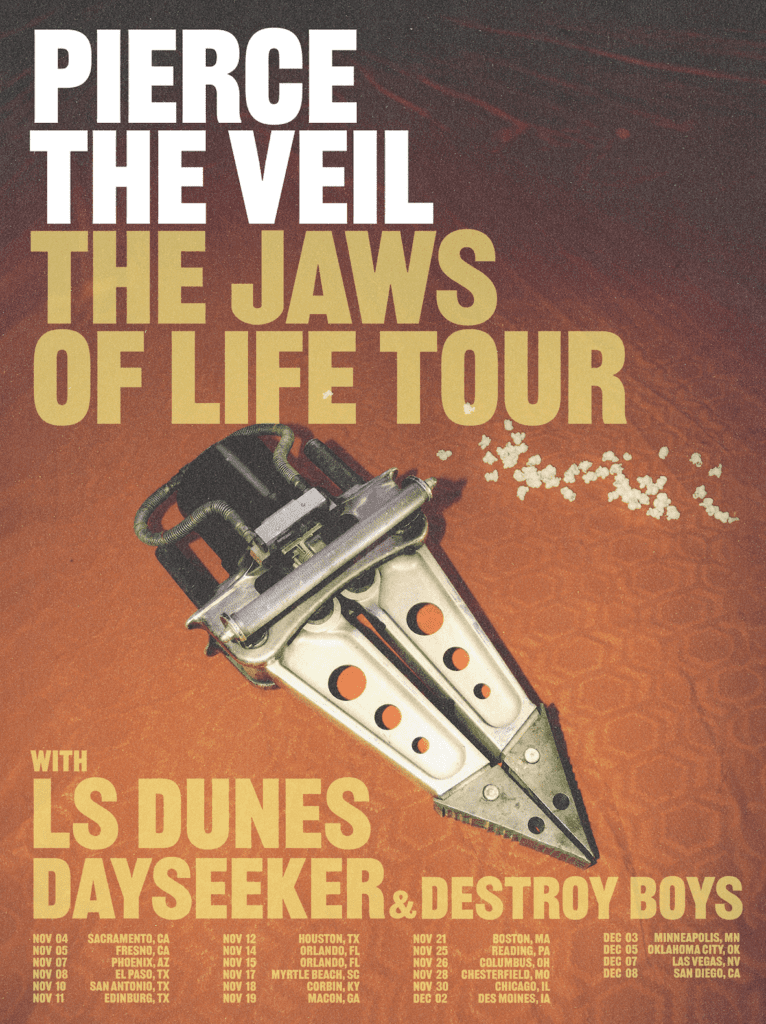 CON L.S. DUNES, DAYSEEKER, + DESTROY BOYS:
11/4 — Sacramento, CA — Hard Rock Live
1/5 — Fresno, CA — Fresno Convention Center
11/7 — Phoenix, AZ — Arizona Financial Theatre
11/8 — El Paso, TX — UTEP Don Haskins Center
11/10 — San Antonio, TX — The Espee
11/11 — Edinburg, TX — Bert Ogden Arena
11/12 — Houston, TX — 713 Music Hall
11/14 — Orlando, FL — House of Blues
11/15 — Orlando, FL — House of Blues
11/17 — Myrtle Beach, SC — House of Blues
11/18 — Corbin, KY — The Corbin Arena
11/19 — Macon, GA — Macon City Auditorium
11/21 — Boston, MA — MGM Music Hall at Fenway
11/25 — Reading, PA — Santander Arena
11/26 — Columbus, OH — KEMBA Live!
11/28 — Chesterfield, MO — The Factory
11/30 — Chicago, IL — Byline Bank Aragon Ballroom
12/2 — Des Moines, IA — Vibrant Music Hall
12/3 — Minneapolis, MN — The Armory
12/5 — Oklahoma City, OK — The Criterion
12/7 — Las Vegas, NV — Brooklyn Bowl
12/8 — San Diego, CA — Viejas Arena
SOBRE PIERCE THE VEIL:
Pierce the Veil ha debutado en la cima de las listas Top Rock Albums, Alternative Albums y Hard Rock Albums de Billboard, primero con Collide with the Sky (2012) y su álbum de continuación, Misadventures (2016). Una década después de su lanzamiento, el sencillo platino "King for a Day" llegó a la posición No 1 en Billboard, por la lista de reproducción de Hard Rock, impulsada por el hashtag viral #KingForADay en TikTok. Incluso con dos sencillos de oro y un álbum de oro, 2023 podría ser el ańo más grande Porque este es el año de The Jaws of Life.
La banda que Rolling Stone una vez describió como "hiperactivo progresivo y post-hardcore" , regresa con el álbum número cinco, lleno de guitarras borrosas, ganchos melódicos masivos y el distintivo corazón emocional de PTV. The Jaws of Life es Pierce The Veil mostrando su lado más vulnerable, con diligencia e inmediatez. Nunca predecible, siempre cautivador, Pierce The Veil continúa volando gracias a la fuerza de una energía muy potente, una musicalidad rica y un sentido rudimentario de auténtica ambición exuberante que, francamente, no tiene rival. Vic Fuentes, Tony Perry y Jaime Precadio pusieron emociones volátiles, angustiosas y composiciones personales en la música, razón por la cual sus canciones resuenan con tantos. "No importa dónde se presente la banda, los fanáticos aparecerán", escribió Loudwire . "Cuando veas Pierce The Veil en vivo, entenderás por qué".
La evolución de PTV de un álbum a otro es nada menos que impresionante. El revuelo inicial generado por A Flair for the Dramatic (2007) hizo de su seguimiento uno de los álbumes más esperados del 2010. Selfish Machines llegó al número 1 en la lista Heatseekers de Billboard. El Chicago Tribune elogió a Collide with the Sky por su "punk post-hardcore con algunos complementos a Queen". Se convirtieron en un verdadero acto de arena en Misadventures, llenando grandes lugares sin perder la conexión íntima con sus fans.
Pierce the Veil llevan mucho tiempo consolidando su estatus como una de las bandas más excitantes y relevantes de su género, en constante evolución. Su nuevo álbum, The Jaws of Life, debutó en la posición número 1 de la lista Hard Music Chart y se situó en el Top 3 de las listas de rock, música alternativa, independiente, vinilos y ventas de álbumes. El álbum también recibió elogios de la prensa en Rolling Stone, Uproxx, Gawker, The Huffington Post y Associated Press. El sencillo, "Emergency Contact" debuto en el Top 5 de la radio alternativa, mientras que agotaron las giras con I Prevail y The Used. Han superado los 2.000 millones de reproducciones y los 500 millones en YouTube y han obtenido múltiples certificaciones de oro y platino de la RIAA, lo que demuestra que el crecimiento es una constante para ellos.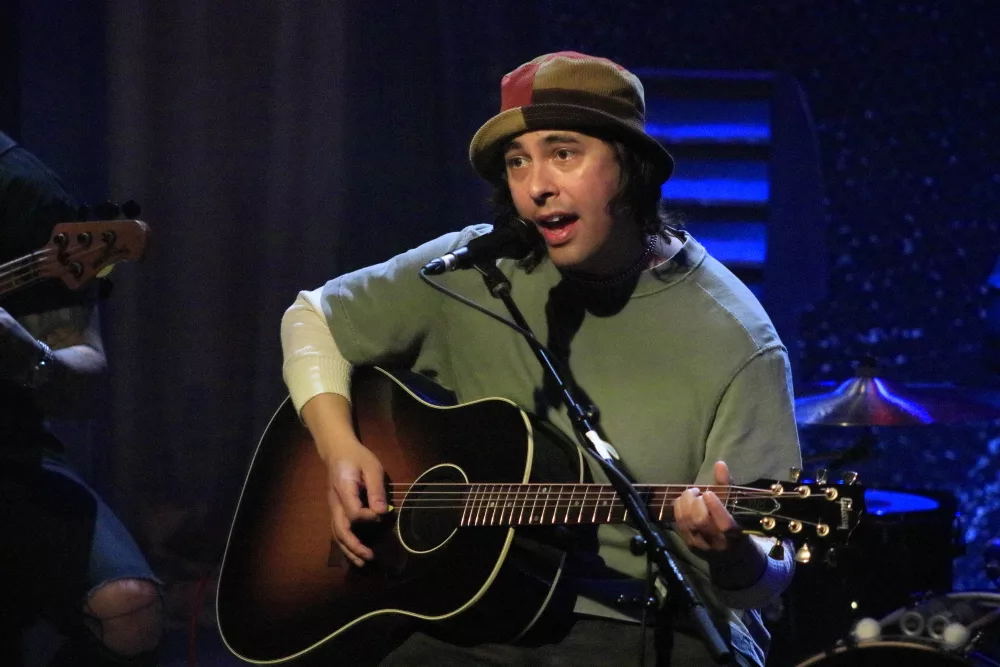 The Jaws of Life fue producido por Paul Meany (Twenty One Pilots, Yungblud y Walk the Moon) y mezclado por Adam Hawkins (Machine Gun Kelly, Turnstile, Twenty One Pilots). Abundan los temas serios, pero Pierce the Veil lo navega todo con gracia. La letra continúa la tradición de Fuentes con honestidad minuciosa e su ingeniosa manera de escribir. Pierce the Veil actúa en los festivales más grandes y se encuentra entre las bandas más grandes y brillantes de una generación más joven de bandas. Pero todo comienza con las canciones. El álbum, The Jaws of Life está repleto para mantener el fuego de PTV encendido para siempre.