El dúo de hermanos zuriqueses Hermanos Gutiérrez, formado por Estevan y Alejandro Gutiérrez, se complace en compartir su primera remezcla y combinación vocal de una nueva interpretación del tema "Los Chicos Tristes" de su álbum más reciente El Bueno Y El Malo. Remezclado por Leon Michels, más conocido como El Michels Affair, e introduciendo voces de Jensine Benítez, la nueva versión del instrumental ambiental añade unos ritmos de batería más prominentes y una introducción hablada por Benítez, dando a la canción un giro intenso y cinematográfico. Las sutiles notas del órgano, las voces y las guitarras entrelazadas de Hermanos llevan la remezcla a un lugar más oscuro y misterioso, manteniéndose fieles al sonido íntimo del dúo que les ha hecho ganar millones de fans en todo el mundo.
Sobre el remix, Hermanos Gutiérrez dice, "Recordamos haber visto a Leon Michels en vivo en el escenario en 2010 en Paradiso en Amsterdam junto a los Expressions, Lee Fields y Charles Bradley. ¡Volamos a Amsterdam solo para para ver a estos chicos en vivo y fue una de las mejores presentaciones que hemos visto! Pero no fue hasta el año pasado cuando por fin pudimos conocer a Leon en persona a través de Dan Auerbach en Paris para su Record Hang. Fue en ese momento cuando por fin pudimos decirle lo mucho que hemos estado siguiendo sus discos de El Michels Affair y todo su trabajo en su sello Big Crown. Tener la oportunidad de trabajar en este remix juntos se siente irreal para nosotros y estamos contentos de como el agrego su propio sabor a 'Los chicos Tristes' convirtiéndolo en un tema tan potente".
Michels agrega, "Le quería dar el mismo tipo de dramatismo y sensación que bandas como Los Angeles Negros y Los Pasteles Verdes tenían en su música. Jensine Benitez es una de mis vocalistas favoritas y lo hizo perfecto".
Pulsa en la imagen para escuchar el Remix de "Los Chicos Tristes" en la plataforma digital de tu preferencia :
"Los Chicos Tristes" es una de las canciones más destacados de El Bueno Y El Malo. El álbum es el viaje más épico de la banda hasta la fecha: trabajando con The Black Keys Dan Auerbach en su estudio Easy Eye Sound en Nashville, compusieron diez composiciones vividas, donde los ritmos de un hermano y las melodías del otro se entrelazan de tal manera que se vuelven inextricables.
El álbum sigue arrasando con más de 30 millones de streams globalmente desde su lanzamiento el año pasado, y sus oyentes mensuales en Spotify superan 1.4 millones. El duo a recibido elogios por NPR Weekend Edition, KEXP, The Current, Variety, Relix, Rolling Stone, Consequence, Music Radar, Guitar World y más.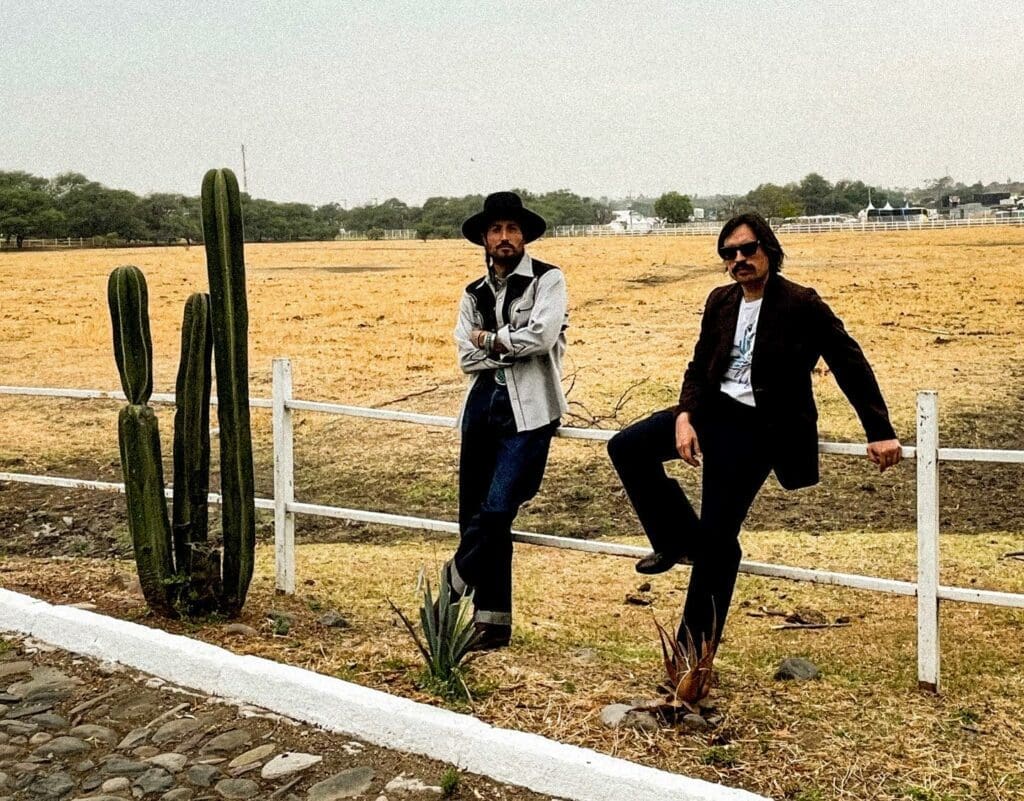 El duo también actuó recientemente en los Americana Music Awards 2023, donde fueron nominados a Álbum del Año. Tras las exitosas giras de 2023 por Norteamérica, Hermanos Gutiérrez regresan a Estados Unidos para tocar sus canciones íntimas y cuidadosamente elaboradas en ciudades selectas del sureste del país. Además de tocar en ciudades como Raleigh, NC y Lexington, KY, el dúo también actuará en Big Ears Festival en Knoxville, TN.
Las fechas completas de la gira están a continuación. Pulsa en la imagenes para adquirir tus boletos:
FECHAS DE GIRA:
October 31 – Oslo World Festival x Cosmopolite – Oslo, Norway
November 1 – Vega – Copenhagen, Denmark
November 2 – Festsaal Kreuzberg – Berlin, Germany
November 4 – Take Root Festival – Groningen, Netherlands
November 5 – Paradiso – Amsterdam, Netherlands
November 6 – KOKO – London, United Kingdom
November 7 – La Cigale – Paris, France
November 12 – Sala La Paqui – Madrid, Spain
November 22 – Cine Joia – São Paulo, Brazil
November 25 – Primavera Fauna – Santiago, Chile
November 28 – La Noche De Barranco – Lima, Peru
November 29 – Planetario de Bogotá – Bogotá, Colombia
December 3 – Vorterix – Buenos Aires, Argentina
December 18 – Kaufleuten – Zürich, Switzerland
December 19 – Kaufleuten – Zürich, Switzerland
March 16 – Variety Playhouse – Atlanta, GA
March 17 – The Underground – Charlotte, NC
March 19 – The Jefferson Theater – Charlottesville, VA
March 20 – Lincoln Theatre – Raleigh, NC
March 21 – Orange Peel – Asheville, NC
March 22 – Big Ears Festival – Knoxville, TN
March 24 – Lexington Opera House – Lexington, KY