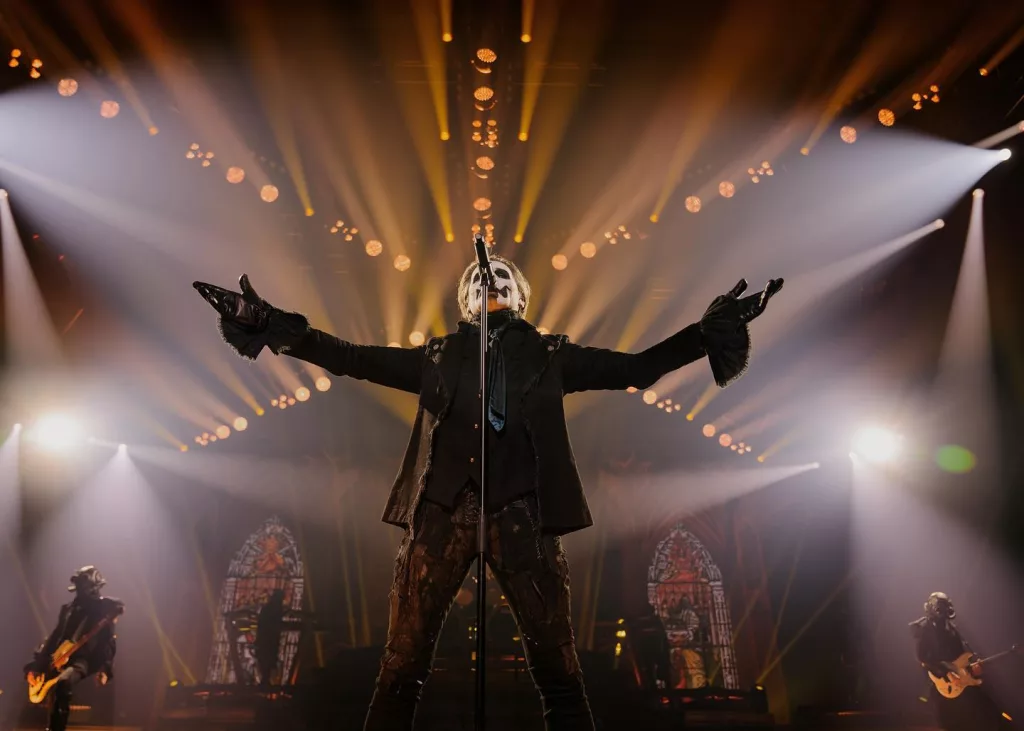 Ghost, los iconos suecos del hard rock anunciaron su regreso a la Ciudad de México. La banda soltará todo su poder el próximo 18 de septiembre con un espectáculo macabro que cubrirá de oscuridad el Palacio de los Deportes, donde ensordecerán a sus fans con su poderoso sonido, además de presentar el nuevo material recién estrenado: Phantomime. Por si fuera poco, la noche encenderá motores con los invitados especiales: Tribulation.
Los boletos estarán disponibles en Venta General a partir del jueves 1 de junio a las 11 AM hora local por medio de www.ticketmaster.com.mx.
Desde su primera visita a México en 2013, cuando fueron invitados especiales de Iron Maiden y Slayer en el Foro Sol, Ghost ha tenido una conexión muy especial con la energía de los fans mexicanos. En 2020, la agrupación hizo su última presentación en el Palacio de los Deportes con un inolvidable concierto. Ahora, los reyes de la oscuridad regresan para traer sus grandes éxitos en un show producido por OCESA y K2 Agency, a la Ciudad de México después de girar en el verano de 2023 por los Estados Unidos, con más de 28 fechas anunciadas.
El nuevo disco de Ghost, Phantomime, ya está disponible en plataformas digitales. Puedes ordenarlo o guardarlo AQUÍ.
El próximo concierto de Ghost en la Ciudad de México tendrá como invitados especiales a Tribulation, los reyes del metal gótico de Suecia, quienes recientemente estrenaron su nuevo material: Where the Gloom Becomes Sound.
Sobre GHOST:
GHOST continúa elevando y reafirmando su estatus como una de las fuerzas creativas mundiales más queridas y celebradas del mundo. Acumulando más de mil millones de streams, la banda sueca de rock ganadora del GRAMMY® sigue trayendo el "espectáculo eufórico" (Rolling Stone) de sus conciertos en vivo, a nuevos y más grandes públicos apasionados, liderando giras mundiales de arenas incluyendo shows agotados desde el The Forum en Los Ángeles y el Carclays Center en Nueva York, hasta la Arena O2 de Londres y la Arena Avicii en Estocolmo.
En marzo de 2022, Los Angeles Times reportó en una portada de Calendario que Ghost "conquistó el metal y las listas de éxitos" cuando su quinto álbum de estudio, IMPERA, debutó en el #1 arrasando con las listas de los Estados Unidos, entrando también al Billboard 200 en el segundo puesto y, alcanzando la cima de las listas en su nativa Suecia, además de Alemania y Finlandia. También alcanzaron el Top 5 en el Reino Unido (#2), Países Bajos (#2), Bélgica (#2), Canadá (#3), Australia (#3), Francia (#5), Irlanda (#5) y más.
Producido por Klas Åhlund y mezclado por Andy Wallace –incluyendo "Spillways", el cual fue alabado como una "melodía de rock dulcemente construida" por The New York Times, "Call Me Little Sunshine", el cual llegó al #7 de las Tendencias en YouTube y, "Hunter's Moon", que fue #1 en la lista de sencillos de radio Active Rock–, IMPERA plasma a Ghost transportado siglos adelante desde la era de su álbum previo, el nominado al GRAMMY® por Mejor Álbum de Rock, Prequelle o, como Rolling Stone lo puso: "Ghost predijo la pandemia, ahora la banda de metal predice la caída de los imperios".
El resultado es la entrada más ambiciosa y líricamente incisiva en el canon de Ghost: A lo largo del ciclo de 12 canciones de IMPERA, ascenso y caída de los imperios, los aspirantes a mesías hacen propaganda (financiera y espiritual por igual), se predicen profecías, mientras los cielos se llenan de cuerpos celestes divinos y artificiales… En definitiva, se trata del tema más actual y certero de Ghost hasta la fecha, el cual se sitúa sobre un telón de fondo melódico hipnótico y oscuramente colorido, que hace de IMPERA una obra como ninguna otra, tan inconfundible y quintaesencial de Ghost.